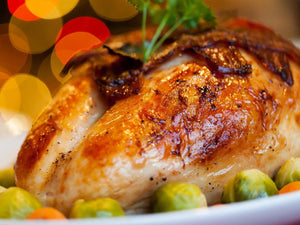 Turkey Brine
Regular price $10.00 Sale
To make a moist, juicy turkey, you should use our turkey brine. One package of our turkey brine is enough for a 14-20 pound turkey.
Mix our turkey brine with 2 gallons of water and soak your thawed turkey for 4-8hrs in the refrigerator or a cooler filled with bags of ice. Make sure the turkey stays cold and is completely covered in the brine. If not, add enough water to cover turkey and weight it down. The longer you brine, the saltier the turkey will be. After brining, remove turkey, wash and pat dry. Throw away brine. One way we roast the turkey is put the turkey in a roasting pan.
Preheat oven to 325 degrees F. Brush turkey skin with melted butter. Roast for 15-20 min per pound (i.e. 12 pound turkey would take 3 hrs). When the interior breast meat is 170 degrees F or thigh meat is 180 degrees F, then turkey is done. Let it rest for 20-30min so that the juices settle into the meat.
We don't recommend stuffing a brined bird because the stuffing will be too salty. 
Ingredients: kosher sea salt, garlic, lemon peel, allspice, black pepper, ginger, thyme, rosemary, sage, celery seed